Bike To Work Day is the 2nd Thursday of every May…
And WOBO has officially designated May 2017 as  Bike Month!
Bike To Work Day activities are made possible by generous sponsorship from the City of Oakland, and in-kind and volunteer support from small businesses and WOBO members.
2017 Sponsors and bike-friendly friends include: City of Oakland, BART, Oakland Central, AC Transit, Integral Data Group, TEECOM, and Amtrak San Joaquin.
Wanna help out in 2017? Are you a business that would like to be part of Bike Month or Bike To Work Day (May 11, 2017)? Let us know here.
Events
Team Bike Challenge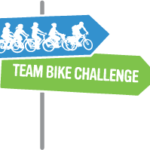 Looking to ride your bike and earn bragging rights among your friends for the miles you rack up? Join team bike challenge, get on or create a team, and start counting the miles you commute to and from work every day.
2016 Highlights
Cool things happened when we set out to celebrate the "No Pollute Commute."  On May 12, 2016, hundreds of Oakland neighbors rode with the Mayor and City Councilmembers Kalb, Guillen, Campbell-Washington and Gallo, hit up a nearby Energizer Station, or the mega party at City Hall -Frank Ogawa Plaza for a free pancake breakfast and Bike Share demo.
At City Hall, in Frank H. Ogawa Plaza, over 700 bicyclists enjoyed a pancake breakfast, free valet bike parking, free bike safety checks, a raffle with great prizes from local bikes hops and businesses, and a transportation fair to highlight the bike-friendly programs of local agencies and businesses.
We also celebrated with a ribbon cutting at new green bike lanes on Grand Avenue with Mayor Schaaf, Councilmember Guillen and City of Piedmont City Councilmember Tim Rood.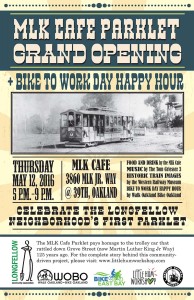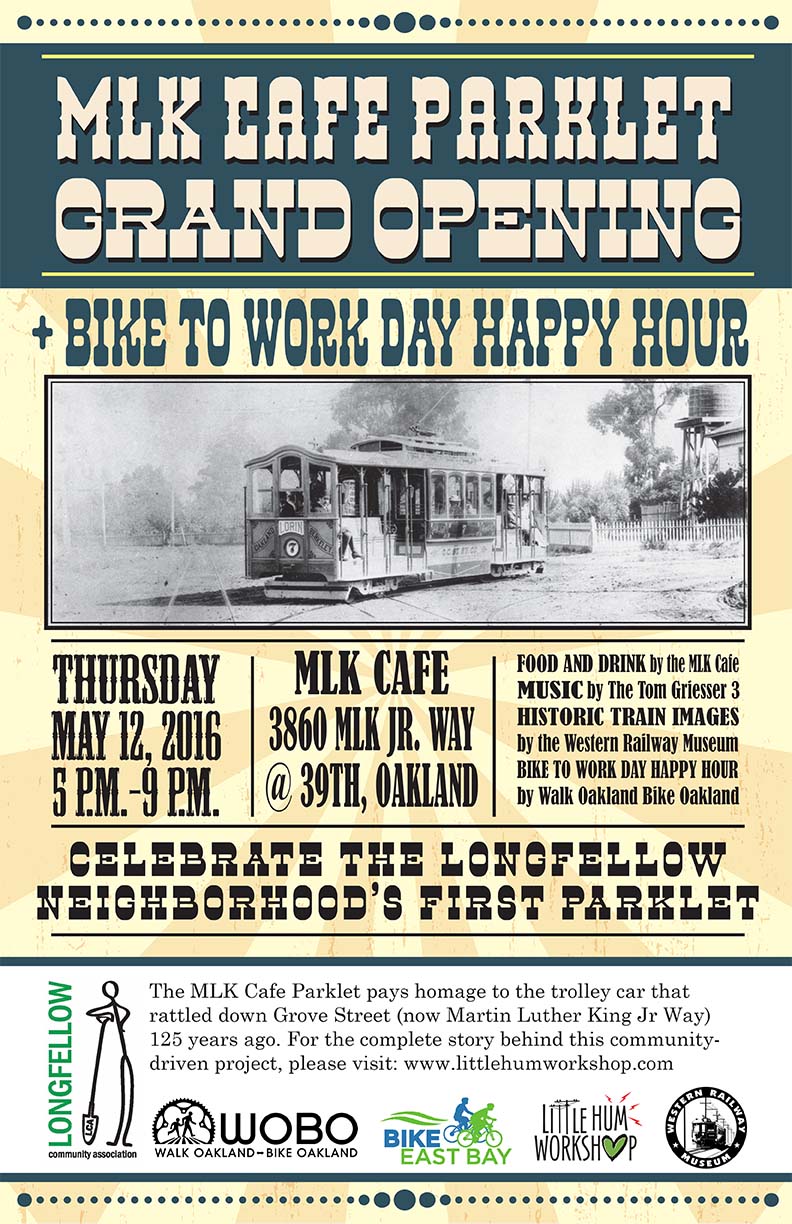 Bike to Work Day is only complete with a bicycle Happy Hour.  In 2016, we partnered with MLK Cafe (3860 M.L.K. Jr Way, Oakland, CA 94609) to celebrate.  MLK Cafe has the first parklet west of the 580 in Oakland that is designed like an old streetcar.  For history buffs, May 12, 2015 is also exactly 125 years from the time the Oakland Consolidated Street Railway Company ran the first electric trolley car down Grove Street (now MLK Way).

Scenes from Bike to Work Day 2016