As expected, Oakland Mayor Libby Schaaf has proposed a new full-service, vertically integrated Department of Transportation (DOT) separate from Public Works. It's part of Mayor Schaaf's budget proposal that needs City Council approval by July 1, 2015, the start of Oakland's next 2-year budget cycle. A new DOT is good news because it will make Oakland deliver street improvements quicker and avoid miscommunications that have resulted in missed opportunities to fix the streets you use everyday.
Sign on to support the DOT by Friday May 29, 2015
Read the Full Letter of Support from WOBO
A new DOT will help Oakland be smart and responsive about leveraging outside funding to integrate walking, bicycling and transit together rather than treat these modes as step children to the all-mighty car.
Details of the proposed DOT include reorganizing existing staff and resources from several departments to create a new full- service, vertically integrated Department of Transportation to expand Oakland's ability to deliver repaving and other Measure BB funded capital projects, as well as leverage new and existing transportation funds to develop a project pipeline to build the transportation infrastructure needed to support community safety, housing and economic development.
Also of note, Mayor Schaaf is interested in developing support for additional revenue for city improvements. She is proposing to use $150,000 to develop and prepare an infrastructure bond initiative as well as a Wildfire Prevention District initiative for the voters to consider in 2016. The City has numerous unfunded capital needs along with deferred maintenance of infrastructure, buildings and technology exceeding $2 billion. The budget includes funding for conducting a professional poll for a potential bond measure to secure a funding stream in the next general election. The Mayor's recent survey of Oakland residents shows that a majority favor raising new revenue rather than cutting existing services.
We are encouraged to see the new Mayor's commitment to investing in the City of Oakland and her recognition that Oakland has long neglected many city upgrades and improvements. We will work closely with Bike East Bay and Transport Oakland to ensure this becomes a robust department with a new visionary leader. You can learn more about the proposed Oakland DOT at an upcoming neighborhood budget forum:
https://localwiki.org/oakland/Community_Budget_Forums_2015
More on Mayor Schaaf's 2015-2017 Budget Proposal to City Council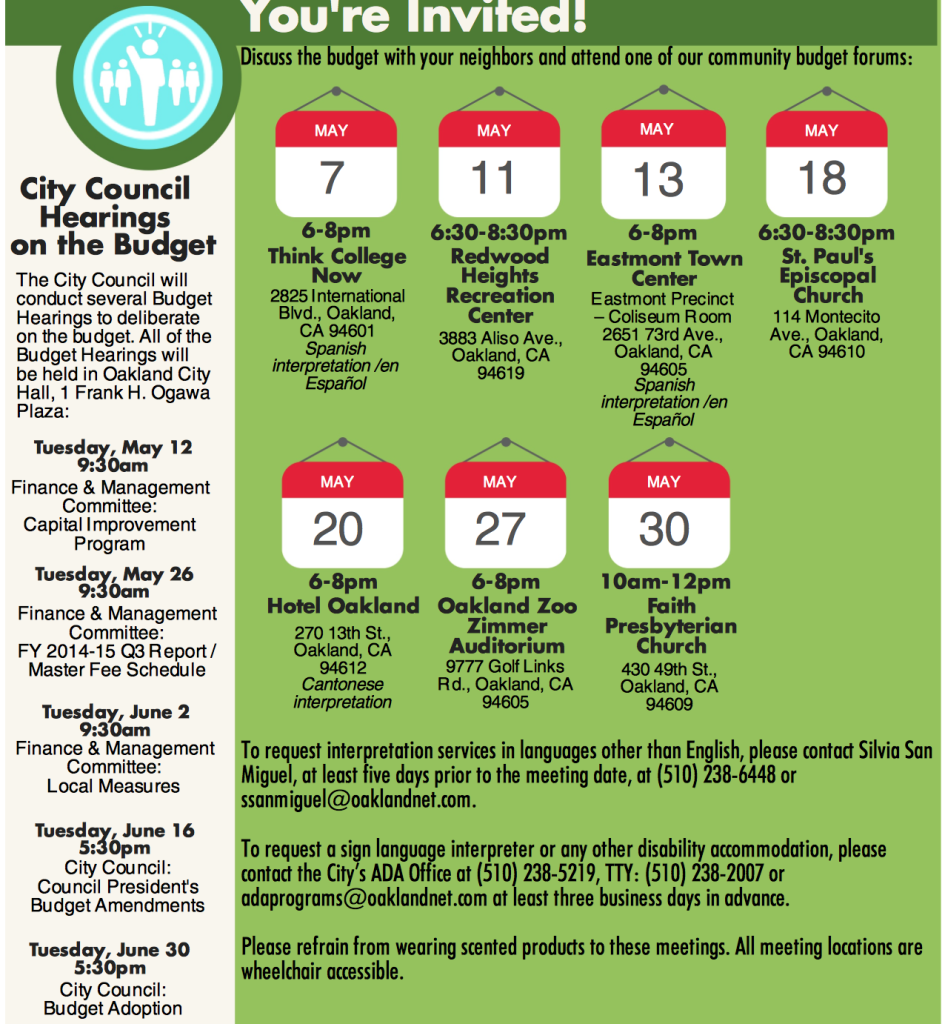 LPE Budget Release – 4/30/15 from KTOP TV10 on Vimeo.