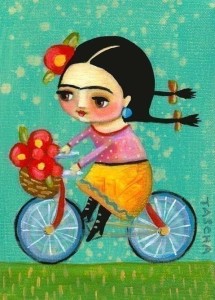 Seriously, we can't believe we didn't think of this earlier. But ladies have unique bicycling experiences that deserve customized attention to get them rolling comfortably, confidently, safely on two wheels.  WOBO is offering this inaugural bicycling skills workshop for ladies only.
Date: Sunday April 19
Time: 1pm start, ends approximately at 4pm.
What to bring: your own bicycle, helmet, and comfortable cloths appropriate for the weather
Location: meet up and end of the class will be at Fruitvale BART BikeStation (3301 E. 12th St)
What to expect: 30 minutes – bicycle safety check, 1 hour – visiting bicycle facilities on the roads and bicycle storage options, 1 hour – Road skills discussion and taking to the roadways with a League Certified Instructor from Bike East Bay
A couple of details before signing up:
1) You need to bring your own bicycle. Consider bringing your bicycle to a nearby bike shop for a safety check before the class. We will have a bike tech from Bay Area Bikes at the workshop to look things over. But you'll want to have your bicycle in fairly good order as we WILL take to the roads.
2) Please bring a helmet, water bottle.
3) You do not need to be speedy or a veteran bicyclist. We welcome all riders, as long as you've got basic handling skills.
4) Anyone younger than 14 must be accompanied by a responsible adult.
5) Come with an open heart and willingness to share some of your own bicycling experiences.
6) We ask for a $10 registration fee, but are open to donations on a sliding scale. All participants will receive a Walk Oakland! map.
[By registering for the Ride Like a Girl workshop, you agree to assume responsibility for your own safety and release Walk Oakland Bike Oakland from any liability WITH RESPECT TO ANY AND ALL INJURY, DISABILITY, DEATH, or loss or damage to person or property, WHETHER ARISING FROM THE NEGLIGENCE OF THE RELEASEES OR OTHERWISE, to the fullest extent permitted by law.]
Questions? Email us.
Ready to Jump In?