We want every person who lives, plays, and works in Oakland to feel safe and comfortable walking and bicycling, and to knowhow to make their neighborhood a better place to walk and bike.
WOBO Activities
WOBO works to promote walking and bicycling, and the best way to get walking and bicycling is to go with a group to discover the hidden and not-so-hidden gems throughout Oakland. Our partners, Oakland Urban Paths, and a few fearless ride leaders bring you something new every month. Always check our Facebook events for latest announcements!
Activism and Policy
WOBO designs and launches key campaigns to push for the city to make good on the bicycle and pedestrian master plans by actively participating in local planning processes, with the goal of ensuring that full bicyclist and pedestrian accommodations are included in the planning process.
Neighborhood Advocacy
WOBO helps neighborhood groups get the change they want by advising and connecting groups with the right teams in the city or the community, advocating on the community's behalf with city leaders, and supporting implementation of projects such as Paint the Town and car-free Oaklavia events.
CAMPAIGNS: SLOW OAKLAND
GOAL: Promote Street Calming and Reform of Inequitable Traffic Enforcement Policies in Oakland By Forming A Coalition to Equitably Address Excessive Speeds on Our Streets. Read more here.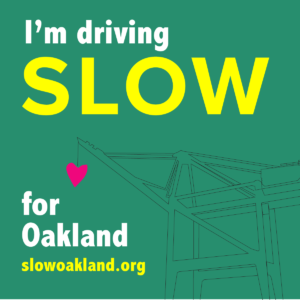 GET INVOLVED
WOBO is a volunteer driven, members based organization. Join us in making Oakland a better place for biking and walking by becoming a member or volunteering!