When was the last time you sang karaoke or mocked up sculptures with architects on the street? Precisely why you want to visit the organizations and businesses creating parklets this Friday!
These "feed-the-meter" parklets are a vision of more accessible and better-designed neighborhoods.  Parklets permit a slower-paced absorption of our city's corridors, mesh well with cyclist and walkers, and most importantly, encourage visitors to linger and share!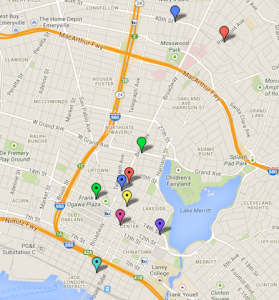 Most of Friday's parklets are open between 9 am – 3 pm, though some are open between 8 am – 6 pm. Click here to see the participants!
A one-hour bike tour will leave from PGA Design's Parklet at 444 17th Street at noon.
Please contact Chris at chrisa@wobo.org or 925-405-7023 for details.