This Friday, September 21, parking spaces throughout Oakland will be transformed into art galleries, teahouses, and other interesting destinations as part of the seventh international PARK(ing) Day.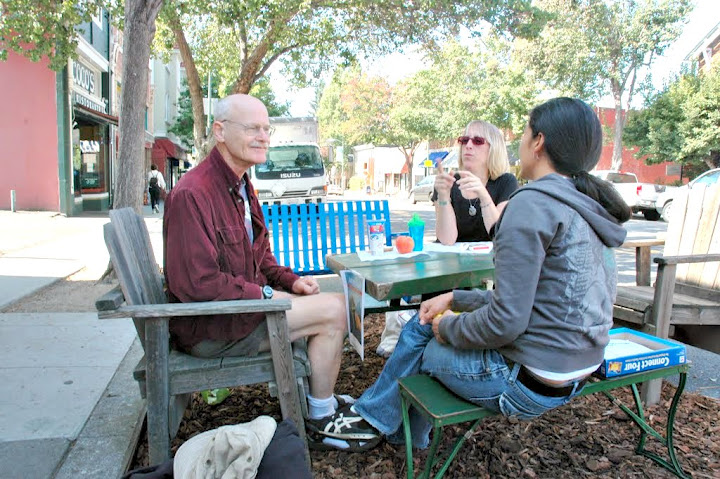 Our Parklets for People campaign has been working with businesses and community groups in neighborhoods around the city to promote participation in this great day of community transformation and spread the word about Oakland's Pilot Parklet program. There will be over a dozen temporary parklets this Friday and Saturday – creating community spaces that feature everything from a place for fun and games, to a laptop hangout, to quiet place for a spot of tea.
Park(ing) Day Raffle!
Visit one, visit them all. Stop by any of these participating location to see what Oakland parklets are all about, and you can enter a raffle for great Oakland prizes. See below for full list of prizes.
Oakland Park(ing) Day Map

View Park(ing) Day Oakland 2012 in a larger map or View a map of all International Park(ing) Day 2012 locations.
Participating Oakland Locations:
Transformers @ Play by

 

Transform

14th Street between Broadway and Franklin St. 9:30am-2pm

Learn how we can create world-class public transportation and walkable communities in the Bay Area and beyond. For Park(ing) Day we will be transforming a parking space into a play space, with fun games and pedal powered smoothies.

Farley's East

33 Grand Ave at Broadway. 7am to 9pm

One of, if not the, first permanent parklet for Oakland! The parklet is under construction now and will be close to complete by Park(ing) Day.  Support their effort to build an urban oasis for the people of Oakland by visiting their 

kickstarter

 page.

Woody's Cafe

1841 Park Blvd at E 19th St. 7am – 1:30pm

Featuring: Drawing materials, stamps and books to read. Come take a break with your Eastlake neighbors! A great neighborhood spot!

Omiiroo

400 14th St at Franklin St. 11am to 7pm

Featuring: 

Art and Dance!!!

Dimond Beer Garden by the Dimond Improvement Association

3400 Fruitvale Ave, opposite Peet's Coffee. 9am to 3pm

Featuring: Promotion of Dimond's 5th Annual Oaktoberfest (October 6) and review of recent DIA accomplishments (Dimond Transit Plaza and bikeways on MacArthur and Fruitvale). We will also have historical images of the original Dimond Beer Garden. (Note that no beer will be served in the Parklet).

A Spot of Tea by Tea Here Now

1721 Webster St at 17th. 8am to 1pm

Bring your favorite cup/mug/tumbler and enjoy a cup of tea and great conversation with neighbors! Tea will be provided.

Design Resource Parklet by Sessa + Wadlund Design 

Park Blvd and Glenfield. 9am to 5pm

Sessa and Wadlund's parklet will offer a design library resource center where visitors can access garden design and architecture books. We will also provide drafting and coloring materials to help visitors' design ideas become fully realized. Couch seating to relax and enjoy a cup of coffee will also be available.

40th Street Parklet by Manifesto Bicycles

40th Street @ Webster. 8am to 5pm

A temporary parklet where the 40th Street Parklet will soon be constructed (coming in October). Stop by to check out their parklet plans. Grab a cup of coffee and pick up some bike gear while you're there. Learn more about plans for the 

40th Street Parklet

.

Rare Bird

3883 Piedmont Ave @ Montell. 9am to 7pm

We will be offering a nice place to sit and relax with plant life surrounding you. We will also be giving away hand made buttons to everyone who visits.

Tech Liminal

268 14th Street @ Alice. 9am to 7pm

Folks can come by with their laptops and hang out, meet up, blog in the company of other bloggers, share information or discuss technology.

Art is in Coffee

477 25th Street. 10am to 2pm

Art In is Coffee brings their art/coffee cart into the parklet of the 25th Street Collective. Stop by for delicious coffee and tea. Enjoy the art for local artists. Feel free to bring a musical instrument to serenade the parklet.

Tay Ho Oakland

344 12th St at Webster.

Grand Ave Parklet by Urban Furniture

3241 Grand Ave between Lake Park and Santa Clara

** This parklet will be set up on Saturday, September 22 instead of Friday**
List of Raffle prizes:
One hour of free architectural or landscape architecture design consultation by Sessa + Wadlund Design.
A gift certificate for certificate for Tech Liminal services.
A Team Sampler from Tea Here Now
A $20 Oaktoberfest Package
A gift certificate to Rare Bird
Others TBA.