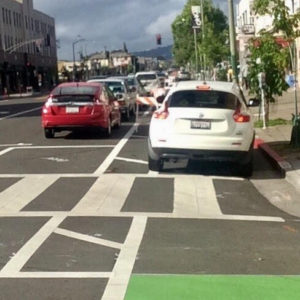 When national experts came to Oakland in 2014 to help Oakland redesign Telegraph Avenue, they asked "why did you choose such a challenging street for your first protected bike lane?" Our response was to get a 2nd opinion and go to Copenhagen to consult Danish expertise. Here's our blog about that. In hindsight, the US experts had a point.
In the KONO District, Telegraph is a challenging street, mainly due to a high level of loading/unloading, drop offs, pick ups, and other curbside activities, and the off-set intersections, which all compete with your new protected bike lanes. Portions of Telegraph Avenue above and below the KONO District have less curbside commotion and can more easily handle protected bike lanes. But in KONO, parking confusion persists. When redesigning Telegraph, we focused more on avoiding congestion with fewer lanes, and less on curbside activities. In hindsight, physical elements should have been part of the project from the get go–lesson learned.
Physical elements in the buffered areas are planned and now funded. We expect more temporary flex posts and clearer signage to be installed this Spring, which should reduce parking confusion in the brown pained corner areas and improve sight lines. In 2018, more permanent physical barriers will be installed. These can include flex posts, curbs, planters, and/or artwork. However, before permanent barriers go in, further community engagement will take place to ensure added the physical elements and other street upgrades work for all users of the street. We are working closely with the KONO Business Improvement District, First Fridays, St. Augustine's Church, and many supportive and concerned businesses, and won't stop until the street is working much better.
Mind you, many people love Telegraph's new bike lanes. Bike counts are already up 52% and a vast majority of people bicycling and walking say the street is safer. And business is up in the KONO District. Telegraph Avenue was chosen as a bikeway in Oakland's 2007 Bicycle Master Plan for a reason. Walking across Telegraph's two travel lanes rather than four lanes as before is way safer and more enjoyable, as was envisioned in the 2005 Telegraph Avenue Pedestrian Streetscape Improvement Project. "The single traffic lane each way cuts down on speeding and people walking have fewer lanes to cross–the design is way better than before," says Colin Dentel-Post, Oakland resident. Traffic is also flowing just fine, as we predicted, as it has always done on Oakland's 43 other road diet projects. Telegraph's redesign has won a national award. However, the project is not a success until the parking issue is resolved.
Fulton Street's new protected bike lanes in Berkeley largely avoided parking problems by installing flex posts on day one when the bike lanes opened last May 2016. Parking compliance there exceeds what you experience on regular bike lanes out in traffic. Plus, intersection approach designs are better on Fulton Street, improving the experience for residents and students bicycling. All cities, though, are learning how to design and construct better protected bike lanes, and all with our help.
This March, Oakland is opening a new short stretch of a protected bikeway on upper Broadway, above Keith Avenue with Oakland's 1st bike traffic signal. Oakland has also designed and funded protected bike lanes on Fruitvale Avenue west of E.10th Street and on 20th Street/Harrison Street between Broadway and Lake Merritt. On 14th Street, Oakland received a $10.5 million grant to design and build protected bike lanes through downtown–what promises to be a signature bikeway project. Oakland is studying new bike lanes for Park Blvd. Should they be protected bike lanes? The experience of Telegraph Avenue is informing all these projects, as well as the design of extended bike lanes on Telegraph Avenue north of 29th Street.
What you can do:
Continue to give us feedback on Telegraph's design. Use SeeClickFix's mobile app or send an email WOBO Board Member Dave Campbell
Shop businesses on Telegraph Avenue and thank them for being on a more bike-friendly street
Make sure your WOBO membership is current, helping us parlay your support into a well-connected network of safe bikeways