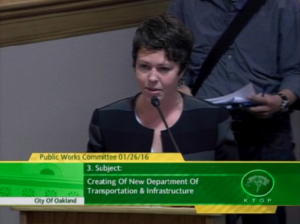 Oakland City Council on February 2, 2016  authorized City Administration to start recruiting a new Director for the Department of Transportation. They held off on any endorsement of whether the new department will include functions such as sewers and storm water management—the infrastructure part, and what if any budget adjustment will be needed to pay for new administration positions. Overall, this is good news, as we were worried that budget impacts for more administration positions could stall the proposal. These financial issues will be taken up in June during the mid-cycle budget review.
At Public Works Committee on January 26, 2016, Hearing Room 2 was full with residents, labor leaders, Public Works staff, Walk Oakland Bike Oakland, Bike East Bay and Transport Oakland in support of a new Department of Transportation. Oakland's Bicycle & Pedestrian Facilities Manager Jason Patton spoke in support, as did Ali Schwartz the Project Manager for Measure DD projects. So great to hear testimony from rank & file at Public Works Committee.
There is still much work to do and many issues to discuss going forward as Oakland starts a strategic plan to outline how a new department will be staffed and operated. Local 21 and SEIU representatives, labor unions for city staff, still have concerns, as do representatives of persons with a disability. But overall, at least four city councilmembers voiced support and want to see this happen.
Next Steps
Bloomberg Associates will be working with Mayor Libby Schaaf's Office to start work on a Strategic Plan for the new Department, as well as recruiting for the new Director position. In addition, Walk Oakland Bike Oakland will work closely with the Mayor's Office and the City Administration to ensure a collective and transparent process occurs over the next several months to ensure public input.
What you can do