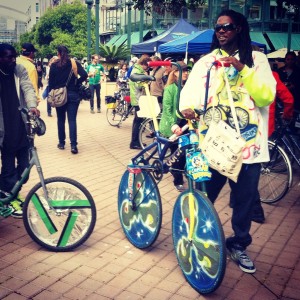 Reginald Keith Burnette Jr, better known as Chef Boy R.B., has been riding anything with wheels since age 4 and, as it turns out, cycling has become his route to changing his community, one bike at a time.
Born and raised in the heart of East Oakland, R.B. learned at an early age how to work on bikes at the Oakland Discovery Center and had been scraping bikes together ever since.
"Yes, my bike, kept me off the corner and out of a gang," said R.B. "The unity in [The Scraper Bike] team provided me with a group of peers/brothers with positive mind frames; inspired to achieve and lead by example."
R.B. began riding with The Scraper Bike Team in 2009, "bringing greenery to the scenery" and immersing himself in Oakland's biking community. Then two years ago, with the help of Dave Campbell and Bike East Bay, R.B. began passionately advocating for better, safer biking in Oakland.
"I learned that 'Deep East Oakland' has so little bikeways and no bike shop for a 74 block radius," said R.B.  "So I began doing bike outreach, [conducting the] East Oakland bike survey, [attending] NCPC/BEAT meetings and community base events, anything to gather input and voice my opinion."
Now the president of The Scraper Bike Team, R.B. runs the Bikes To Books program and hosts a Bike Decorating workshop every Friday with the 81st Ave Branch of the Oakland Public Library, where he works.
Every Saturday since 2013, R.B and The Scraper Bike Team volunteers host a free bike workshop for low-income youth in East Oakland behind ColectiVelo, teaching bike maintenance, encouraging team unity and fostering creativity.
Many kids come without a bike but after just three Saturdays of work trade they leave with their very own self-customized bike and a place in a group of friends. The Scraper Bike Team utilizes a unique 'Each One, Teach One' method, which means once you've learned how to fix a bike, you teach someone else to fix a bike. This builds team unity and respect for one another.
The next step is to show off their new ride at community events such as Scraper Bike Team group rides and the Bikes To Books program. Contribution to community events is required for participation in the workshops, as are good grades; everyone is expected to go to school and keep up a 2.0 grade point average. There is even a special progress report card for The Scraper Bike Team.
While bike parts donations are on the decline, there is no shortage of kids in need of a bike to make their own. Over 200 youth attended the workshops during the last 6 months and summer vacation is just beginning.
"Most kids in East Oakland have to choose every day: pay for lunch or for a bus ride to school," said R.B.  "Having a refurbished bike helps them get to school and back. This helps them sustain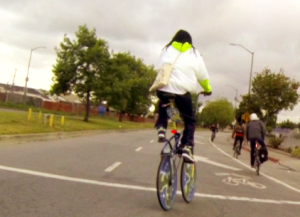 motivation to improve their school grades and attendance."
At the end of the day on Saturdays The Scraper Bike Team rolls out together.  R.B. leads from high atop his yellow and blue, Captain Crunch Berries-themed scraper bike, dropping off kids at home, one by one till the wheels are down to two.
The Scraper Bike Team workshops are in desperate need of bike parts donations. Currently they have a high demand for BMX helmets (everyone has to wear a helmet) and skinny rims (widths like 700 x 35c and smaller, diameters like 700cc, 26in., 27in., and 24 in.). Donations can be dropped off any Saturday at 4848 International Blvd from 1 to 4 PM. For donation pick-up just shoot 'em an email at scraperbikes@gmail.com