Thursday September 24, 2020
While Bike to Work Day is normally held annually on the second Thursday in May. This year, the COVID-19 pandemic has necessitated its reschedule to late September. On this special day, and week of 9/20 – 9/26, WOBO and bicycling allies encourage people to try out some of Oakland's new-ish bicycling infrastructure, visit Slow Streets, even ride the BRT's bike-friendly buses.
How to Join the Fun
We will not be hosting the traditional celebratory fair at City Hall this year. But we have several ways for everyone to experience the joy of moving by bicycle.  Check out our plans for Bike To W(herever) Day: Play Bike Bingo and win prizes, share a ride you take during the week on social media (tag us @walkoakbikeoak), or volunteer for one of many tasks.

East Oakland Bike Bag Giveaways!
Bags giveaway at MLK library, curbside pick up on Thursday the 24th
6833 International Blvd
81st Ave Library is combining bike bag giveaways and food pickup (11am-2pm) Monday, Wednesday, and Friday
HERE'S WHERE TO PICK UP YOUR BIKE BAGS STARTING SEPT 24
Bike East Bay Office: 466 Water St, Oakland, CA 94607
Bicycle Coffee: Jack London Square: 364 2nd St. @ Webster, Oakland CA, 94607
The Crucible: 1260 7th St, Oakland, CA 94607
Cycles of Change: 1246 23rd ave Oakland Ca, 94606
Drake's Dealership: 2325 Broadway, Oakland, CA 94612
Fruitvale BART Bike Station: 3301 E 12th St #141, Oakland, CA 94601
Hank & Frank Bicycles: 6030 College Avenue, Oakland, CA 94618
Laurel Cyclery: 3715 MacArthur Blvd, Oakland, CA 94619
Mudlab: 440 Grand Ave, Oakland, CA 94610
Oakland Library – 81st St. Branch: 1021 81st Ave, Oakland, CA 94621
Oakland Library – MLK Branch: 6833 International Blvd, Oakland, CA 94621
Tip Top Bike Shop: 4800A Telegraph Ave, Oakland, CA 94609
Uptown BART Bike Station: 1775 Broadway, Oakland, CA 94612
BIKE BINGO WITH US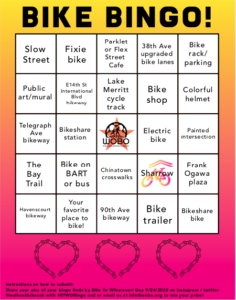 Cycle around The Town, take pictures of things and places on the card and win a prize!  Download the card here and upload your pictures to Twitter or Instagram with the #BTWDBingo hashtag.
MEDIA KIT
We've prepared a media kit to get the word out about Bike To W(herever) Day 2020. It's available to everyone – please download and use it to help WOBO reach our maximum audience!
We are powered by volunteers. Be one. Sign up below or complete the form here.
Every WOBO Volunteer on BTWD gets our new WOBO Tubie! (You also get one when you become a member in 2020.)