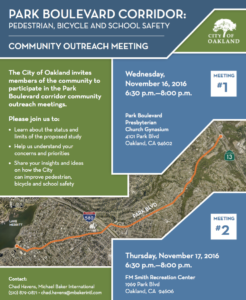 The City of Oakland's Department of Transportation (OakDOT) cordially invites you to attend community outreach meetings to hear your concerns about transportation safety and mobility on Park Boulevard corridor (Highway 13 to East 18th Street).  OakDOT will also update you on the various efforts that are ongoing on different sections of Park Blvd. Walk Oakland Bike Oakland also encourages you to attend and let OakDOT know you are quite ready for Park Blvd to have modern, comfortable bike lanes the whole way.
Community Meeting #1
Wednesday, November 16, 6:30-8:00pm
Park Blvd Presbyterian Church Gym
4101 Park Blvd
Community Meeting #2
Thursday, November 17, 6:30-8:00pm
FM Smith Recreation Center
1969 Park Blvd
Please feel free to attend either date, as the content will be the same both nights.  Please also share and circulate this flyer to interested parties.
Download the Community Flyer from OakDOT
More on Bike East Bay's and Walk Oakland Bike Oakland's Park Blvd Bikeway Campaign
More info or questions contact Chad Havens, Michael Baker International:    chad.havens@mbakerintl.com       tel.  510.879.0871
Wladimir Wlassowsky, P.E.
City Traffic Engineer
Transportation Services Division Manager
Oakland Public Works Department
510.238.6383