What began as a WOBO pilot project in 2010 has grown into a delightful annual rite of passage going into its third & fourth iterations in 2014.  Oaklavia (oaklavia.org) is produced by Walk Oakland Bike Oakland to bring car-free streets to Oakland. The main objective of Oaklavia is to invite the public to "Come Play in the Streets."  The first Oaklavia created an event route that stretched from Broadway in Downtown Oakland into Old Oakland, and terminated at 7th and Brush Streets in West Oakland.
On Sunday, September 14, 2014, 11am to 4pm, Oaklavia – Love Our Lake Day returns to Lake Merritt.  Why?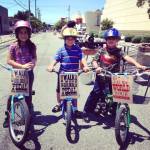 The streets belong to the people!  We are encouraging friends, neighbors, co-workers and visitors to experience the streets as they should be, demanding that we re-think, and advocate for how we build and use our roadways to support healthy, vibrant, livable and sustainable places for Oakland. We want to share with you the incredible diversity of resources along the route, the vastly improved Lake Merritt as a result of a voter-approved tax measure (that's right, Oaklanders are paying for these improvements), and the joy of reconnecting with each other in order to realize how far we've come in fostering a strong and resilient Oakland, and how far we have yet to go.
Oaklavia – Love Our Lake Day brings back some of the same energy from last year's event. But this time, we're lining up even more community resources on a 3-mile (mostly) car-free route that spans Lakeshore Avenue on the eastern flank of Lake Merritt to Downtown Oakland, Latham Square.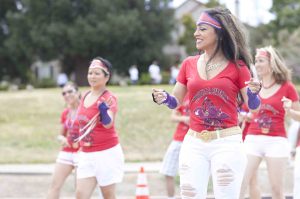 Get ready to dance, stroll, scoot, bike and kickbox your way through 3 stages, an Eritrean/Ethiopian New Year Festival, a yoga class, acupuncture sessions, information booths to help you learn how to adjust your daily routines to become part of the solution for creating a sustainable Oakland.  Through movement, exercise, experience, WOBO hopes event participants will walk more, and maybe try bicycling more as a viable way to exercise, to run errands, and to commute.  And best of all, WOBO hopes you will feel energized to help shepherd Oakland into a bright future.
Click HERE for an early snapshot of what we've got planned for you.  
Catch you at Oaklavia!