3.2 miles of roadway circling Lake Merritt, Oakland's crown jewel, temporarily closed to auto traffic, designated for bicycling, walking, skating, dancing, hugging friends you hadn't seen in ages, walking dogs, people-watching, connecting with community organizations, discovering new shops and restaurants, paddling / rowing the lake, admiring beautiful Oakland.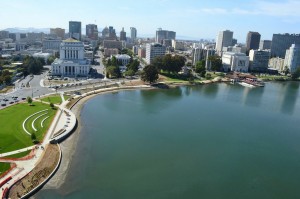 The 2pm dedication ceremony honoring Measure DD's vision and Oaklanders who raised $200 million to improve water quality and lakeside facilities drew thousands of people, and featured dignitaries such as Mayor Jean Quan, BART Director Robert Raburn, Councilmembers Kernighan and McElhaney, former Councilmember Danny Wan, US Representative Barbara Lee, County Supervisor Keith Carson, California Governor Jerry Brown, Measure DD reps Naomi Schiff and James Vann.  California Assemblyman Rob Bonta and his staff were in the crowd, volunteering alongside WOBO.
Did you hear Naomi's perspective on KQED?
The food truck vendors ran out of food! Lake Chalet reported 35% increase in customers.
The number of volunteers that kept everyone safe and happy? 200
And performers? 40 different acts.
The smiles? About 15,000, mas o menos.
We're collecting our photos, and promise to debut a Streetsfilm video by June 22.
Until then, read all about Love Our Lake Day – Oaklavía here: Media Hits
And be sure to let us know what you thought about the event! Fill out our Feedback Form here and you could win a gift card to some our favorite local shops.