BIKE TO WORK DAY 2023 IS ALMOST HERE!
JOIN US FOR HAPPY HOUR IN OLD OAKLAND
Oakland's biggest Energizer Station on Bike To Work Day is the Old Oakland Happy Hour on Thursday, May 18 from 4pm to 7pm. We will take up two blocks on Washington Street between 8th and 10th Streets for a celebratory evening to close out Bike To Work Day.  Bike East Bay and WOBO have teamed up to bring a pedal powered DJ party by Rock The Bike, art bikes from The Crucible, demo bus bike racks a la AC Transit, and a chance to chat one-on-one with advocates and the City's staff and Bicyclist and Pedestrian Advisory Commission.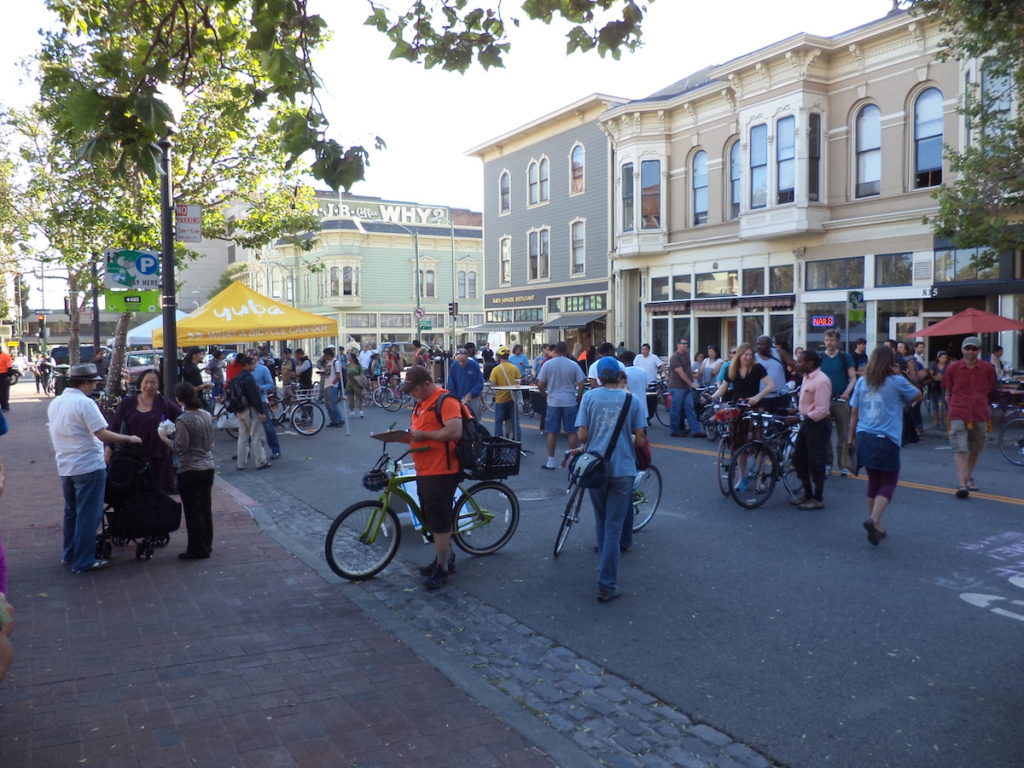 We welcome children, school kids, families, neighbors, health and wellness groups, and anyone willing to roll through Oakland together to celebrate with us! 
AND
We are honored that Mayor Sheng Thao will join our festivities along with other elected officials.
BONUS
Drakes Brewing will donate free beer for the first 200 folks. Bring your ID!  
Old Oakland is also the perfect area to graze at local restaurants and markets. We will see you there! 
Volunteers Needed!
Want to help out at Bike To Work Day 2023  or future events like the East Oakland Futures Fest on June 2? Please use the handy sign-up form by clicking the button below.
STREET SAFETY BROADWAY POP-UP ON MAY 17 & 18
Better street design helps folks on foot, wheelchair, scooter, and bicycle to get around safely!
Tech Students and Principal present an example crosswalk at Oakland Tech High School to prevent traffic injuries.
WHERE: Oakland Tech at 45th St & Broadway
POP-UP DAYS: May 17 & 18 (all day)
CELEBRATION: 7:00 – 9:30 am — Thursday, May 18
PRESS EVENT: 8:30 am — Thursday, May 18
VOLUNTEERS NEEDED! MAY 17 & 18