[vc_row][vc_column][vc_single_image image="2930″ img_size="800 x 200″][vc_column_text]
Many on Telegraph Avenue continue to push for more bicycle/pedestrian improvements and upgrades with support from WOBO and Bike East Bay.
[/vc_column_text][/vc_column][/vc_row][vc_row][vc_column][vc_text_separator title="Our Work"][vc_column_text]
Update Summer 2021
Protected bike lanes have been installed on Telegraph Avenue from downtown to 29th Street in the Korea/Northgate (KONO) neighborhood.  However earlier this year the lanes came under fire for not fulfilling their purpose and OakDOT proposed to remove them.  On July 6 the Oakland City Council voted unanimously to keep the protected lanes.
[/vc_column_text][vc_separator]
[vc_column_text]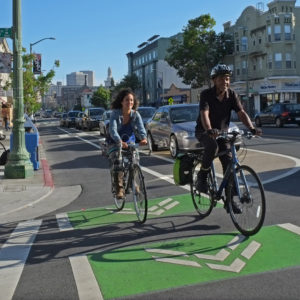 A milestone was reached in May, 2016 with the unveiling of a brand new painted, parking-protected bike lane on Telegraph Avenue, garnering a quick 52% increase in bicycling, along with an overwhelming consensus that walking and bicycling safety has improved. Check out Oakland's 2017 progress report here. It even made the list for America's best new bike lanes of 2016! However, double parking is a challenge and many drivers are still confused. This is only the start. More will be done to improve the experience and safety of everyone.
Phase two of the campaign will address:
Extending the bike lanes north to 41st Street

Installing physical protection (concrete or some other barrier) for the bike lanes from 20th Street to 41st Street

Bike traffic signals at busy cross streets of Grand Avenue, 27th Street and MacArthur Blvd

Bus boarding islands at bus stops to eliminate bus-bike conflicts

Adding artwork to the street
The phase two upgrades are currently under review by Caltrans, and $6 Million has been allocated to work on these projects. However, with current forecasts in place no improvements would be seen until 2018. That's too long!
The Telegraph community needs your help to ensure that this project will see its completion sooner rather than later.
Our January 2017 update on Telegraph Avenue improvements
Click here for an in depth January 2017 performance summary from Fehr & Peers[/vc_column_text][vc_text_separator title="Get Involved"][vc_tta_tabs][vc_tta_section title="Sign Up" tab_id="1470713233881-cc7ca8f2-f7c2″][vc_column_text]Stay up to date on this project by joining our mailing list![/vc_column_text][vc_btn title="Sign Up Now" color="orange" link="url:http%3A%2F%2Fwobo.org%2Fget-involved%2Fjoin%2F|||"][/vc_tta_section][vc_tta_section title="Join" tab_id="1470777906899-0b050d3c-73ef"][vc_column_text]Become a Walk Oakland Bike Oakland member and support this campaign![/vc_column_text][vc_btn title="Join Now" color="orange" link="url:http%3A%2F%2Fwobo.org%2Fget-involved%2Fjoin%2F|||"][/vc_tta_section][vc_tta_section title="Act Now" tab_id="Wed Dec 28 2016 11:45:56 GMT-0800 (PST)-5abfcffd-e2fa"][vc_column_text]Shop Telegraph businesses in the KONO District and remind them their customers arrive by bike. There are many terrific local merchants, including restaurants, bars, markets, and unique stores. Check 'em out and tell your friends.[/vc_column_text][/vc_tta_section][/vc_tta_tabs][/vc_column][/vc_row]