BIKE TO W(HEREVER) DAY AT THE LAKE
Friday May 20 4:00-7:00PM
at the Lake Merritt Pergola
Please join us on Friday May 20 for Bike To W(herever) Day festivities.  Come down to the Lake Merritt Pergola to connect with WOBO, the Oakland Cycling community and the agencies and organizations we work with to make The Town a friendlier place to get around without depending on private autos.  We'll have free swag, bites and beverages so bring your friends and family.
BTWD 2022 attractions include:
1Oakland Community Ride to the Lake
Pedal-power music and disco party at the Lake through 7PM
Our first community "Flag" ceremony
Info booths with WOBO, Bike East Bay and more
It's going to be great!  We look forward to seeing you there.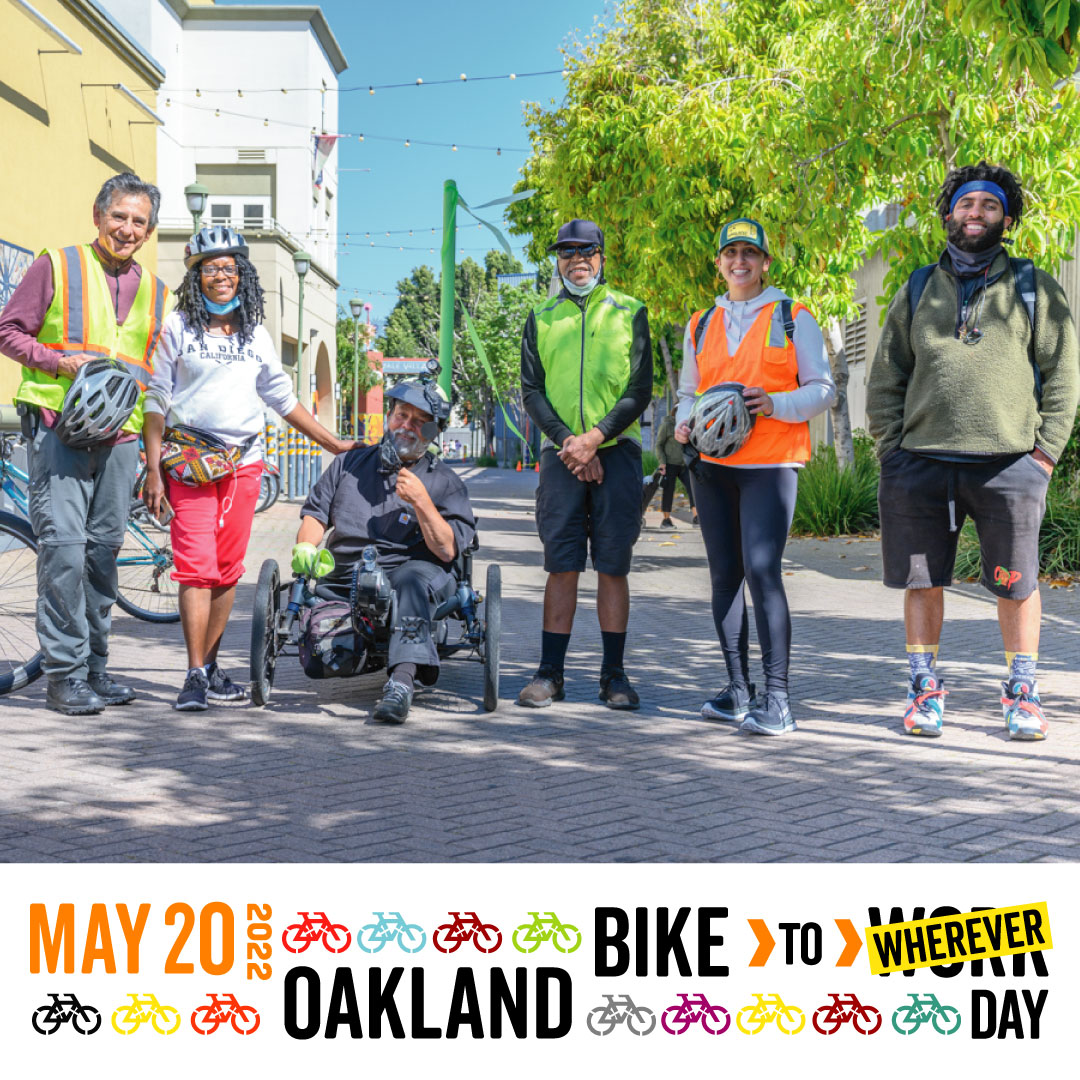 Ride in unity to celebrate this year's Bike To Wherever Day, starting from the 81st Ave Library through Liberation Park, Fruitvale BART, Latham Square, West Oakland, and ending at the Lake Merritt Pergola for fun bicycling activities, more snacks and major swag giveaways!
We roll out at 3:30pm from the 81st Ave Library. Meet up earlier at 3pm to grab snacks and check out bike repairs.
We highly recommend you join from the starting point. But if you are unable to join for the 3:30 roll out, consider at the following stops:
Liberation Park (Foothill and 71st Ave) 3:45
Fruitvale BART 4:15
West Oakland BART 4:30
Latham Square (downtown) 5:00
Arriving at Lake Merritt Pergola at El Embarcadero at 5:30
See map for more details on location and route.
Want to ride with us?  Sign up here.
FESTIVITIES
You also will NOT want to miss the pedal power music and disco party at the Lake through 7pm.  We will hold our first community "Flag" ceremony at Lake Merritt at 6:00pm, where groups and neighbors can mark their organization on flags that WOBO will provide to showcase to everyone coming through. We encourage children, school kids, families, neighbors, health and wellness groups, and anyone willing to roll through Oakland together to join.
Other organizations and agencies that will be at the event:
Bike East Bay
Rock The Bike
Bay Area Air Quality Management District
AC Transit
Oakland Department of Transportation (OakDOT)
Transport Oakland
VOLUNTEERS WANTED!
Want to volunteer with WOBO to help BTWD 2022 run smoothly?  Please use this handy sign-up form.
Please help us get the word about BTWD2022 out to your community.  Download our handy media kit at https://tinyurl.com/yc2xt3ae and spread the love!