[vc_row][vc_column][vc_single_image image="3340″ img_size="full" onclick="custom_link" link="http://wobo.org/bike-to-work-day-2017″][vc_column_text]Bike to Work Day, held annually on the second Thursday in May, encourages people to try the "no-pollute commute" with a variety of enticements. Thousands of bicyclists find "Energizer Stations" at strategically placed locations where they can stop, get a canvas bicycle-style bag filled with treats and bicycling information, free coffee, juice or snack; and words of encouragement. WOBO hosts the largest Energizer Station in the East Bay: a pancake breakfast and transportation fair for 700 at Frank Ogawa Plaza. We also organize councilmember-led pedal pools and a giant happy hour at Latham Square. Celebrate an earth- and heart-healthy alternative to driving to work.[/vc_column_text][/vc_column][/vc_row][vc_row][vc_column][vc_column_text]
Events
[/vc_column_text][/vc_column][/vc_row][vc_row][vc_column][vc_column_text]
Coordinated District Pedal Pools
We all know that riding in a pack is way more fun than riding alone. On the morning of Bike to Work Day, you will be able to meet up with your elected official and ride with district pride down to City Hall for the pancake breakfast.
[/vc_column_text][vc_row_inner][vc_column_inner][vc_gmaps link="#E-8_JTNDaWZyYW1lJTIwc3JjJTNEJTIyaHR0cHMlM0ElMkYlMkZ3d3cuZ29vZ2xlLmNvbSUyRm1hcHMlMkZkJTJGZW1iZWQlM0ZtaWQlM0QxSGJfVDZPLUQwYjlPa2tLYk1XQjFQSW51TURkYURJSkIlMjIlMjB3aWR0aCUzRCUyMjY0MCUyMiUyMGhlaWdodCUzRCUyMjQ4MCUyMiUzRSUzQyUyRmlmcmFtZSUzRQ=="][/vc_column_inner][/vc_row_inner][vc_column_text]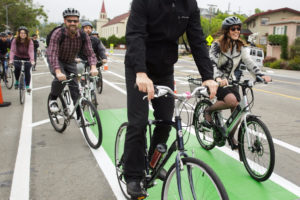 | | |
| --- | --- |
| D1: Children's Hospital Energizer Station (Dan Kalb) | Start at 7:15 AM |
| D2: Grand Lake Ace Hardware (Oakland Mayor Libby Schaaf, Abel Guillen and Piedmont City Council) | Start at 7:15 AM |
| D3: CA Hotel @ 34th & San Pablo (Rebecca Kaplan, Lynette Gibson-McElhaney) | Start at 7:20 AM |
| D4: Laurel Cyclery (Annie Campbell-Washington) | Start at 7:00 AM |
| D5: Fruitvale BART Bike Station (Noel Gallo) | Start at 7:10 AM |
| D6/D7: Coliseum BART Bike Station (Desley Brooks, Larry Reid) | Start at 7:00 AM |
[/vc_column_text][vc_column_text]
Pancake Breakfast at City Hall – Frank Ogawa Plaza 7am – 9:30am
We're getting our ducks in a row to throw a pancake breakfast celebration with you, the Bike Commuter! Drop in to the City's biggest Energizer Station at City Hall, in Frank H. Ogawa Plaza. Expect:
A pancake breakfast
Free Starbucks coffee
Free valet bike parking by Bike East Bay until 6pm
Free bike safety checks
A raffle with great prizes from local bike shops and businesses
A transportation fair to highlight the bike-friendly programs of local agencies and businesses.*
*If you are a business or organization who would like to join the 25 or so groups at the transportation fair, fill out the relevant sections in THIS FORM.
Latham Square Happy Hour 5pm – 8pm
Last year's inaugural Latham Square happy hour was stupendous. We're definitely doing it again.  Go park you bike for free at the BikeHub Bike Station just a block and a half away (19th & Broadway) and round out your day with happiness.
We'll be taking over Latham Square with:
Live DJ – DJ Lumba Jack
Dancing
Beverages for purchase
And a bunch of fun games and activities from our sponsors
[/vc_column_text][/vc_column][/vc_row][vc_row][vc_column][vc_column_text]PS – WOBO members get their first happy hour beverage ticket free. Not a member yet or your 12-month membership expired? Join now!
What Can You Do?
Volunteer!
Bike to Work Day is an easy and fun way to get involved with the community and promote biking around the city, and we need help spreading the love! Oh, we also think volunteers deserve a free beverage at happy hour.
Sign up for our volunteer list and we'll get you rolling!
Be sure to let all of your friends know about #BTWD
[/vc_column_text][vc_column_text]Know great folks who can help spread the word at their workplace, building managers, neighborhood leaders? Email us their contact.[/vc_column_text][/vc_column][/vc_row][vc_row][vc_column][vc_column_text]
May is Bike Month!!
…so be sure to keep up-to-date with all the fun bike-tastic activities happening .
Keep visiting our Bike Month page for updates [/vc_column_text][/vc_column][/vc_row]