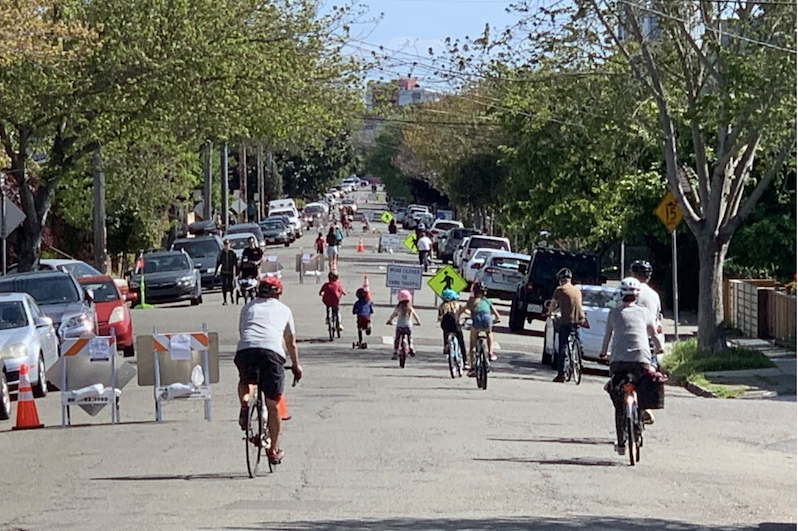 GOAL: Promote Street Calming and Reform of Inequitable Traffic Enforcement Policies in Oakland By Forming A Coalition to Equitably Address Excessive Speeds on Our Streets.
OUR EFFORTS
WOBO's efforts during the City Of Oakland's Slow Streets campaign of 2020-2021 directly contributed to the City implementing its Safe Oakland Streets (SOS) initiative in 2021, designed to to prevent serious and fatal traffic crashes and eliminate crash inequities on Oakland's streets. The SOS initiative's goals are to:
Prevent severe and fatal crashes and related disparities impacting Black, Indigenous, and People of Color (BIPOC) communities, seniors, people with disabilities, and low-income populations;
Eliminate severe and fatal injury inequities including racial disparities impacting BIPOC communities that exist today in Oakland; and
Inform effective and equitable safety strategies that prevent injury and injury inequities, and do not have adverse equity impacts on BIPOC communities, seniors, people with disabilities and low-income populations
Safe street design plays a critical role in encouraging safe traffic behaviors and preventing severe and fatal crashes in the first place. For more info on the SOS initiative please see here.
Currently WOBO is working with Traffic Violence Rapid Response to call attention to the terrible consequences of traffic violence while advocating for specific street improvements