Friday 12 May 2017
17:00-22:00
Bike Decoration Station and OMCA Party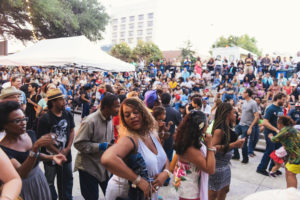 Enjoy the best block party in the Bay with Oakland Museum of California and Off the Grid. Savor California beer, wine, and non-alcoholic beverages around the Koi Pond at the Blue Oak beer garden. Enjoy half-price admission, live music, hands-on activities for kids, a pop-up art market in the Redwood Burl area, and extended OMCA Store hours.
When: Friday, May 12th, 5pm-10pm
Where: Oakland Museum of California, 1000 Oak Street
Bring your bike to the Bike Decoration Station sponsored by WOBO.
Bring friends and family for a taste of local music, food, and culture on 10th Street every Friday Night!