What is a Parklet?
PARK(ing) Day!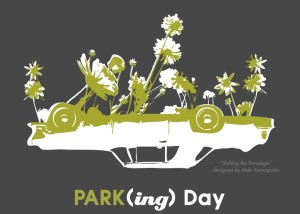 Every year, on the third Friday of September, WOBO and supporters around the world celebrate PARK(ing) Day, providing temporary public open space, one parking spot at a time! We set up shop near our office on 14th Street, between Broadway & Franklin in 2015. We've got a special spot in 2016 at 12th and Webster in front of a future parklet at Tay Ho Vietnamese Restaurant.  Click here for more information about Park(ing) Day 2016, Friday September 16, 2016.
You'll find the origins of PARK(ing) Day here.
Below is an open-source map with PARK(ing) Day locations around Oakland and the East Bay that participated in 2015.
---
Want PARK(ing) Day, Every Day?